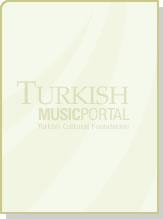 ARTICLES
FIVE EXAMPLES OF WESTERN COMPOSERS INFLUENCED BY A "TURKISH THEME"
( by Sungu Okan )
Five Examples of Western Composers Influenced by a "Turkish Theme"
Sungu Okan
W.A.Mozart (1756-1791), "Abduction from the Seraglio," Three-act opera, K384
Piano Sonata No. 11, K331 3rd movement (Alla Turca)
Ludwig van Beethoven (1770-1827), op. 113, "Turkish March" from "Ruins of Athens"
Modest Mussorgsky (1839-1881), "Capture of Kars" -Solemn March
Johannes Brahms (1833-1897), op.64, Quartet for Chorus and Piano, "Fragen" movement.
As part of the fascination with Eastern culture, the "Turkish" theme is a source of inspiration in the area of music as well as other branches of art. Perhaps the first examples of this are two pieces by Mozart. The most important of these is one of the composer's most beloved operas, "Abduction from the Seraglio," because its subject, as well as its set and musical themes reflect the influence of eastern themes. Naturally, "Abduction from the Seraglio," which contains all the characteristic of Mozart's musical language, is also important as proof that this great composer of western music was influenced by Ottoman culture.
This three-act opera takes place in the 16th century, in the palace of Selim Paşa. Musicologists say that the period in which this opera was written (1781) was characterized by the "Turkish Trend" which was in fashion in Europe in general, and in Vienna in particular. This is based on historical events.
Mozart's other Turkish-themed piece is the third movement of the well known Piano Sonata No. 11 (K331-300), "Turkish March." This section, with its 2/4 meter and quick tempo, is a reflection of Janissary music through the ears of Mozart. This is good evidence that Mozart, like other Viennese composers of his time, was influenced by the mehter music of the Turks, who had twice surrounded Vienna.
Following Mozart was Ludwig van Beethoven (1770–1827) who, in his piece, "Ruins of Athens" (1811, Op. 113), included a "Turkish March." "Ruins of Athens" was written for a play by the same name by German playwright August Friedrich F. von Kotsebue which was debuting in the New German Theatre in Budapest on February 9, 1812. Beethoven was inspired by his Variations for Piano in D Major Op. 76, which he had written in 1809. In the fourth act of the play, Minerva awakes from a 2000-year sleep to find Athens in ruins, and now in the hands of the Turks. Following this piece, the "Marcia Alla Turca" which Beethoven published in 1822 for four-hands piano was nearly as popular as Mozart's Turkish March.
Although other composers of Turkish-themed pieces do not exhibit such clear influence by Turkish music, Johannes Brahmes and Modest Mussorgsky in the 19th century wrote two pieces of note. In his "Capture of Kars," written between 1839 and 1881, Modest Mussorgsky included a short motif, played by wind instruments, which was reminiscent of Turkish music. This march is one of the composer's rarely-performed works.
The 19th century composer, Johannes Brahms's piece "Quartet for Chorus and Piano," Opus 64, contains a section, "Fragen" (Questions), the words of which were inspired by the Turks. In this choral work, set to a text by George Friedrich Daumer, there is no influence of Turkish music, however it shows the composer's interest in the subject.
In addition to the five pieces we have briefly addressed here, other exmples will emerge. But the fact that well-known composers such as Mozart, Beethoven, Brahms and Mussorgsky produced works with Turkish themes can be considered evidence that European culture was at certain periods influenced by eastern and consequently, Turkish culture. We can see that among the reasons for this influence is that the East always served as a fascinating source of inspiration to the Old Continent; not only Turkey but civilizations of countries such as Iran, Egypt, India, Japan and China are known to have inspired western artists. But the Ottoman Empire, especially during its rise and conquests in Europe, influenced European artists with its mystery, colorfulness, and music; in short, its culture. Whether the reason was the fear of war or curiosity, this influence provided an opportunity for the writing of pieces such as the ones addressed here.